March 25th, 2010
Usually handyCafe 3.3 autodetects clients. Please double-check Windows firewall (or any other firewalls) is not blocking handyCafe Client or Server.
You can also manually define Server's IP to Clients to solve this problem:
From Server
Define a static IP for Server PC using Control Panel-Network
From Client
Login client as Admin
Click Options
Uncheck Auto field
Enter Server's IP address to "Server IP/Host"
Click Advanced
Check if Client / Server Password matches with Server
Click OK to save changes
Click on the image to expand!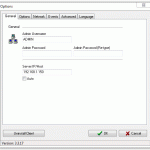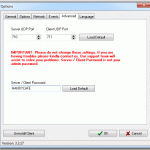 Tags: client, clients, connect, connection, response, server
Posted in F.A.Q | Comments Off on Clients do not connect to Server…
Comments
---